Corona Saurashtra LIVE: 3 deaths in 24 hours in Rajkot, total number of cases reached 8485, 12 cases reported positive in Bhavnagar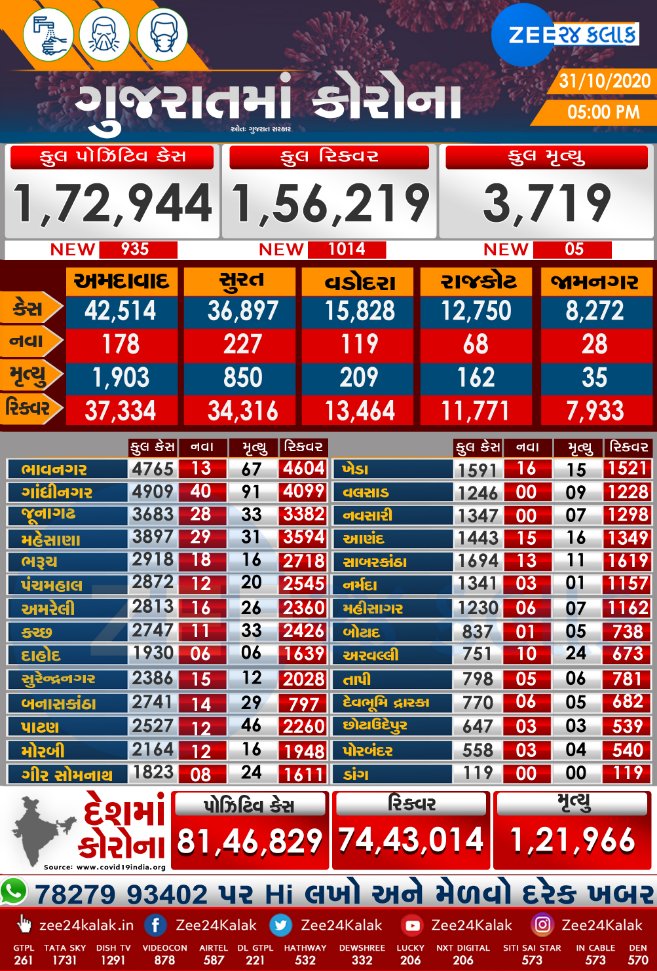 So far, 121 people have died in Rajkot city due to Kovid alone


The number of cases in Saurashtra, including Rajkot, is declining day by day. In Rajkot today, 39 cases have been reported positive. While the total number of cases has reached 8485. At present 523 patients are undergoing treatment in Rajkot. As many as 74 patients were discharged on Wednesday. The number of cases is also declining in Saurashtra's cities including Bhavnagar, Junagadh, Amreli and Jamnagar. The Rajkot Municipal Corporation has now decided to hold the funeral of Non Covid in an electric furnace. On the other hand, 12 positive cases have been reported in Bhavnagar and 14 people have been discharged.

Non-covid can be buried in an electric furnace: Manpa's decision

An important decision has been taken by Rajkot Municipal Corporation. In which the non-covid deceased can be cremated in an electric furnace. An electric furnace of 4 cemeteries was reserved for the deceased in Corona. The decision has been taken by the Municipal Corporation of India (MCI), which has now reduced the number of corona cases. The decision has been made not to spread the Corona transition further. Funerals will be held at Ramnathpara, Bapunagar, Motamwa and Mwdi electric cemeteries in Rajkot.


The total number of cases in Rajkot district reached 12302

A total of 91 new cases of corona were reported in Rajkot on Wednesday, including 53 in urban areas and 38 in rural areas. This brings the total number of cases to 12,302. Corona-positive patients are dying, but the Death Audit Committee has called a meeting and announced the same deaths due to corona, which were actually caused by the virus. Patients who have any other illness. Corona death in such co-morbid conditions is not considered. One of the 4 deaths during Mon-Mars has been declared Covid Death. So far, 121 people have died in Rajkot city due to Kovid alone, according to Manpana's book.


The 90-year-old beat Corona despite five ailments, including heart disease

Corona is very dangerous for the elderly as well as people with the disease but an old man from Rajkot at the age of 90 has overcome the corona in just 14 days despite having 5 diseases. A 90-year-old man named Nirmalaben was admitted to the Civil Hospital in Rajkot after coming out of Corona positive. The elderly man had two seizures, one with paralysis and the other with diabetes and thyroid disease. Because of this they were falling into the category of critically ill. Doctors kept him on oxygen for 10 days and he was discharged on the 14th day of his recovery.