Gujarat government with the help of the Revenue department, which is associated with the National Informatics Centre has digitized land records. ROR @anywhere is the website launched by the government to access the land records and bhu naksha related to it. Geo-maps are also known as cadastral maps which clearly define the boundaries and ownership details of the land.
The digitization has benefitted not only the seller but also the buyer. Now the citizens of Gujarat need not roam around the government office to fetch land maps. The cadastral maps (bhu naksha) can be obtained easily at the leisure of your home.
How to Check Gujarat Bhu Naksha Online
To view bhu naksha in Gujarat follow the below-mentioned step by step procedure –
Log in to the Revenue Department website of Gujarat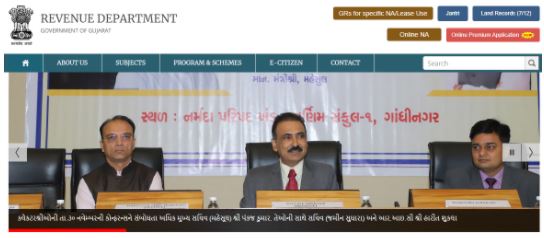 On the home page click on Village Maps which will redirect you to the below shown page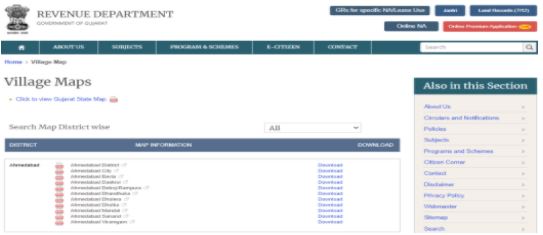 Under the Village Maps section, there is a list of Districts. You can click on the district of your wish and download the maps
Gujarat Village Land map which has survey number can be obtained by calling on the helpline number mentioned in the revenue department website or by visiting the Tehsil office or Taluk office of the respective district.
Benefits of Bhu Naksha GujaratDigitization of land maps has helped the citizens of Gujarat to cross-check the ownership and boundaries of the land they own. Below are some of the advantages of digitizing geo-maps which are also known as a cadastral map -
Plot size – Bhu Naksha defines the boundaries and size of the plot
Verification of landowner – The landowner such as name, address, etc. can be fetched from the bhu naksha portal
Timesaving – As the land maps are uploaded online, it is easy for people to view these details from anywhere and at any time. This has reduced the efforts of citizens to roam around government offices for these records.
Integration of records – The ROR (Record of Rights) which contains informtion such as owner details, tenant details, the record of cess, rent, liabilities, etc., and the map of the plot can be obtained on bhu naksha.
Legality – Details if the plot is allotted by the government for public welfare, etc. can be obtained which will prevent future legal hurdles. In case of any legal issues on land can also be obtained from the bhu naksha.